Culture – Culture is diverse and can be experienced in different ways. Culture can be defined and understood very broadly. The ISWI adopts the concept of culture and organizes various events under the aspect of "cultural events". Different aspects of culture are illuminated, but all events have the same goal: they connect visitors in different ways. Be it through sport, food, music or craftsmanship – visitors have the opportunity to interact with each other and deal with the big ISWI 2019 topic of "Tradition and Transition" in the context of cultural events.
The official language of the conference is English. But in many cultural events, language, a man-made construction, will play a less important role. Sport and music are e.g. also types of languages that allow visitors and participants to communicate with each other.
With this in mind, we cordially invite everyone to be a part of the ISWI and breathe life into the cultural events!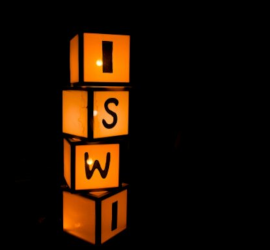 Sports-Event (18th May, 10 a.m. at University Gym)

The first event in the cultural program to take place is the Sports-Event (18th of May from 10 a.m. – 2.30 p.m.). Sport can connect people from different cultural backgrounds and build bridges over language barriers. Considering this, the aim of our sports event is to have fun, play together, overcome language barriers and to get the first contact with the ISWI 2019 motto "Tradition and Transition".
Sport is an essential part of tradition and has undergone transition in the course of history. We want to present and offer this change and the colorful facets of traditional and "modern" sports to the participants – from traditional martial arts to modern dances:

 Afro Dance
Acrobatic Yoga
Archery
Cheerleading
Dance Mix of Breakdance, Hip-Hop and Bollywood Dance
Dodgeball
Kobudo
Juggling
Mix Ultimate Frisbee and Non-Contact Rugby
Parkour
Slacklining

Starting from 10 a.m. with the signing into the slots for the sport courses participants can decide in which courses they would like to join. Altogether there will be four slots – four possibilities to get to know those sport activities! Come, connect and challenge yourself!

When: Saturday, 18th of May, 10 a.m. – 2:30 p.m.
Where: University Gym
To Bring: Sports Clothings and Indoor Schoes with white soles
Welcome Party (18th May, 9 p.m. at Humboldt Foyer)

After having the first connection through sportive actions, after meeting the groupleaders and after the official opening of the ISWI 2019, it is time for everybody to get to know each other in a more relaxed atmosphere. The best way to achieve this is with a party!

Just like the ISWI, the Welcome Party is multi-faceted: Do you like dancing? There is a disco area. You just want to relax, sit, talk or listen to a new-created friend? There's a Chill-Out Lounge for that! Or you are game-enthusiastic and want to make new friends in a playful way? Then come and join us in our game-rooms!  We have prepared a lot for all hosts, groupleaders, participants and org-members to break the ice, so let's get to know each other! We are looking forward to meet everybody!

When: Saturday, 18th of May, 9 p.m.
Where: Humboldt Foyer

World Food Festival (19th May, 1.30 p.m. at Eishalle/Ice Rink)

A cultural highlight on the first weekend of the ISWI will be the World Food Festival. For many years, this centrally located place has been inviting the inhabitants of Ilmenau and the Ilm district to actively engage with other cultures and their traditions and is an integral part of the intercultural life in Ilmenau.

The participants of the conference will prepare typical local dishes of their countries and offer to the guests at the Wetzlarer Platz. In addition, there will be a bar-truck, as well as a grill stand. Everyone is very welcomed to try the dishes and thus not only to broaden their culinary horizons, but also to learn more about the home-country and cultural backgrounds of the participants in direct conversations with the international participants.

In addition to the varied dishes, you can look forward to entertaining programs planned, such as dancing and singing by participants, a bouncy castle and information stands.

For now, we can only say: Come and taste the world!

When: Sunday 19th of May, 1:30 p.m. – 5:30 p.m.
Where: Eishalle/Ice rink  (see Location Plan)

Open Air Concert (21st May, 7.30 p.m. at Eishalle/Ice Rink)

Skavida

Emersound

Awa Fall

"Without music, life would be a mistake" (Lanrianna, ISWI 1st Chairwoman).

Every ISWI needs music. By listening and dancing to various bands you can easily get to know the other participants of ISWI and Ilmenau students.

Look forward to three excellent, danceable, diverse bands:

Skavida – the Ska makes your feet dance; a band from Jena/ Thuringia
Sista Awa – for all who have reggae in their blood; a band from Italy
Emersound – Samba, Rap, Maracatú, Afro-Beat, Pop, Hip-Hop and Reggae; a band from Berlin + Brazil

Admission is for free!

When: Tuesday 21st May, from 7:30 p.m.
Where: Gustav-Kirchhoff-Platz

Time Travel – "Begin Your Crafting Adventure!" (22nd May, 5 p.m. at Gustav-Kirchhoff-Platz at the Campus)

Who has not dreamed of travelling back in time? To get to know once in a few hours different aspects of time and working methods? These dreams can be realized in this year's special event with the theme: Time Travel! Following the motto "Begin Your Crafting Adventure!", we invite all visitors to join us in marvelling at the changing times and trying out the different ways of crafting.

PROGRAMME
In the context of a Grand Opening, workshops, stands, discussion areas and an evening program, many various facets of crafting are taken up. Experience traditional and modern craftsmanship with us! Create your own time travel according to your taste!

Later in the evening, there will be several performances, concerts as well as electronic music with MFK.

When: Wednesday 22nd May
Where: Campus TU Ilmenau
Opening: 5:00 p.m., location TBA
Thuringian Experience Day (25th May)

Erfurt

Erfurt is the capital of Thuringia. It has preserved an intact medieval city centre. The city is known for its two churches, the Erfurt Cathedral (Mariendom) and the church of St. Se­verus, which stand side by side. Another very famous sight is the "Krämerbrücke", a bridge consisting of inhabited houses. The Participants will get to know the cultural part of Erfurt (Erfurter Dom, Topf und Söhne and Krämerbrücke), and will also have enough time to relax, go to cafés or go shopping.

Weimar

Weimar is one of the great cultural sites in Europe. Famous German poets like Goethe, Schiller and Herder as well as the pianist and composer Franz Liszt lived and worked here. In 1999, the European Council of Ministers selected the city as a European Capital of Culture. You will take part in a guided tour; afterwards you can go for a walk in the beautiful park site "Park an der Ilm" and retrace Goethe's steps.

Eisenach

The history of Eisenach is closely linked to the Wartburg Castle, which was built in 1067 and is today a UNESCO World Heritage site. Several legendary events took place there. Maybe you have heard about the "Sin­gers' Contest on the Wartburg". It was also the place where Martin Luther hided from persecution and translated the New Testament into German. The town is also famous as the birthplace of the composer and musician Johann Sebastian Bach.

The Thuringian Forest

The Thuringian Forest has impressed hikers and lovers of nature from nearby and far away for decades. Go on a hiking tour around Ilmenau, bike towards the lake Heyda, enjoy the beauty of the landscape or walk up Ilmenau's highest "mountain", the Kickelhahn, with a height of 861 meters.

When: Saturday 25th. May, 9:00 a.m. – 6:00 p.m.
Farewell-Concert (25th May, 8 p.m. at Mensa Lawn)

One last small cultural contribution for ISWI 2019: "Culture Vultures". This band is the first collaboration of the artists Yank, Selim Saraçoğlu & Ertugrul Güney from Istanbul and the Ilmenau singer-songwriter Alia Thon.

This event is a possibility to relax and have music on the last day of ISWI 2019 before the official departure. The music is influenced by western, eastern and indigenous music styles, as well as stories in Turkish and English. The songs reflect on home, foreign and social experiences within a polarized society. This concert series is a unique representation of parallels and contrasts between the isolation of the Thuringian Forest and the chaos of a 20 million city.

After the band's performance, the small stage will be opened for all people, who would like to contibute e.g. singing, poetry slam etc.

Be part of ISWIs last, cosy event and say Farewell to all the strangers that have become friends during the last 10 days.

Date: Saturday, 25th May
When: 8 p.m.
Where: Mensa Lawn

Student Clubs (each evening opened)

Besides supporting the many cultural ISWI events, the Ilmenau student clubs also organize a fantastic cultural programme for you. Each of the four clubs has its own style and atmosphere. Visit all the clubs and check out which you like best or just randomly pick one:

If you want to take a break and drink some tea or coffee, visit the bc-Studentencafé.


Date: everyday
When: 10 pm (bc-Café: 12.00 noon – 5.00 pm)
Where: bc-Club, BD-CLUB, BH-Club, bi-Club, bc-Café