Meeting our university supporters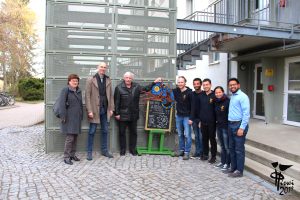 Bitte begrüßt einen unserer größten Unterstützer für die ISWI2019 – den Rektor der Technische Universität Ilmenau Prof Dr. Peter Scharff, den Kanzler Dennys Klein und die Leiterin des Rektoratssbüros Dr. Margot Bock, die uns heute im ISWI-Büro besucht haben.
Zu Beginn begrüßte unser europäischer Freiwilliger Anas die Gäste mit Datteln und Milch, was eine marokkanische Tradition darstellt, um Gäste bei sich zuhause zu begrüßen. Während des Frühstücks sprachen wir über verschiedene Kulturen, die uns begegnet sind, sowie über Schwierigkeiten, mit denen wir bei der Vorbereitung konfrontiert wurden. Der Rektor erzählte uns auch einige lustige Geschichten aus seinen Reisen.
Nochmals vielen Dank für die Unterstützung!
Bleibt auf dem Laufenden, denn ISWI2019 ist schon in 36 Tagen!
---
Please, welcome one of our biggest supporters of ISWI2019 – the Rector of TU Ilmenau Peter Scharff, the chancellor Dennys Klein and the head of the Rectorate Office Margot Bock to visit us today at the ISWI office.
First, our European Solidarity Corps volunteer Anas, welcome them with dates and milk, which is the Moroccan tradition to greet their guests at home. During breakfast time, we talked about the different cultures we experienced before as well as the difficulties we faced during the preparation time. The rector also shared several funny stories with us when he traveled to other countries.
Nevertheless, thanks again for their support!
Stay tuned with us, because ISWI2019 is less than 36 days to go!